COVID-19 Support: We're providing all users an additional discount of up to $100 on all our certification products. - Offer subject to change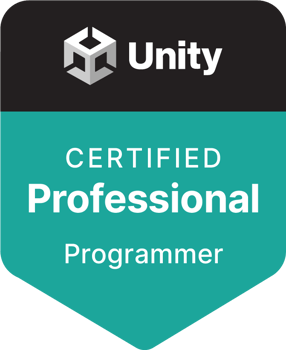 Unity Certified Professional Programmer Bundle - certification and courseware
Learn more on Unity.com
Product details
This bundle includes a voucher valid for one (1) certification exam for the Unity Certified Programmer program and also includes an online courseware for that exam.
Return Policy:This product cannot be returned/refunded more than 48 hours after purchase (registration status does not affect eligibility)
Courseware
Important:This course prepares learners for the version of the Unity Professional: Programmer exam that will replaced with a new exam on 1/1/2022. We encourage you to complete the course and take your exam by 12/31/2021 to ensure your learning and exam are aligned on the same objectives. Note, there will be a 180 day grace period in 2022 where you can still finish your learning and take the old version of the exam through the current expiration date.
Exam Voucher
You will receive two emails within 3-4 hours of your purchase. The first email will be an order confirmation, and the second will include your voucher and registration information. Make sure to check your spam and junk folders.
---
Exam Vouchers are only valid for use at a Pearson VUE™ Authorized Test Centers in the country you select. To find your nearest test center, click here.
All vouchers are non-transferable, non-refundable, and cannot be redeemed for cash or credit. All exam Vouchers expire twelve (12) months after the date of purchase. You must schedule and take the Unity exam within twelve months of purchase. Voucher expiration dates cannot be extended under any circumstances.
Cancelling or rescheduling your exam within 5 business days of your registered exam time is subject to a fee. Failing to show up for your exam appointment or not rescheduling or cancelling your appointment at least 24 hours prior to your scheduled appointment forfeits your exam voucher.